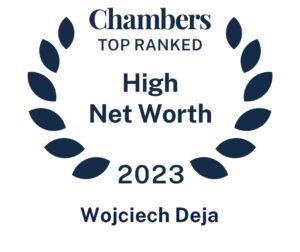 Legal advisor with years of experience advising on complex estate and investment disputes and specialises in the field of football law.
Partner Wojciech Deja is a legal advisor who specialises in resolving contentious business successions, corporate disputes and representing clients from the building industry in trials before courts and administrative bodies (the nominal value of cases in progress exceeds PLN 3 billion). Mr Deja has gained considerable experience in drawing up complex contracts in the field of business trading, including construction contracts, commercial space lease contracts or specific task contracts.
Member of the Warsaw Bar Association. Mr Deja graduated from the Faculty of Law and Administration at the University of Warsaw, the Center for American Law Studies (University of Florida) and the Faculty of Economic Sciences at the University of Warsaw. Member of MENSA Poland.